Introduction
One of the most important tools of Infectious Disease Epidemiology is outbreak investigation. The following exercise will show you how epidemiological methods were applied to an outbreak of SARS in the fictitious city of Epiville.
Good luck and have fun!
Faculty Highlight: Dr. Ian Lipkin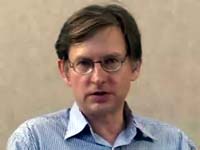 Dr. Ian Lipkin, head of the Center for Infection and Immunity, is a pre-eminent figure in the area of Emerging Infectious Diseases Epidemiology. In the fall of 1999, Dr. Lipkin and his team first identified West Nile Virus in New York State encephalitis victims. He is currently the head of the Jerome L. and Dawn Greene Infectious Disease Laboratory at the Mailman School of Public Health.
Dr. Lipkin is among the researchers from around the world who collaborated on the investigation of the SARS outbreak in the spring of 2003. Through a collaboration with other Columbia researchers, he recently received a $3 million NIH grant supporting the development of technology to both detect and discriminate among multiple infectious diseases- including the SARS -associated coronavirus.
Read more about Dr. Lipkin's work